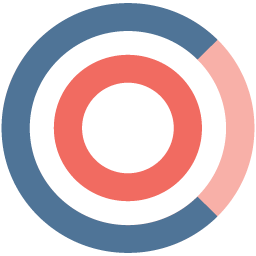 AI and Machine Learning are slowly becoming the future of talent sourcing and acquisition. Already, large companies like Hilton Hotel and Unilever automate all of their initial candidate evaluations, with the AI company HireVue behind the technology claiming to have decreased hiring time by over 90% and increased hire rates by 40%.
AI sourcing, such as the technology behind Celential, has proven to be fast, reliable and efficient. Compared to traditional recruiting services, Celential's AI platform takes just ⅓ the time and provides stronger candidates than those produced by hand.
According to a study conducted by CareerBuilder in 2017, nearly three-fourths of employers hired the wrong person for a position, at a cost of approximately $15,000 per person. Filling empty positions is both costly and lengthy; with recruiters busy with sourcing dozens of other positions, it can take several months before a bad hire's position is replaced.
AI technology can not only assist recruiters with screening and sourcing candidates, helping clear out valuable time that could be spent doing more productive work, but prevent the same mistakes that caused poor candidates to be hired in the first place. Perhaps one of the most important things about AI technology is machine learning, where AIs can learn and improve from experience without explicitly being programmed to. By learning what mistakes recruiters made and collective traits that bad hires made, AIs can teach themselves to look for the warning signs in an unsuited candidate an experienced recruiter might not spot until too late.
AI recruiting is able to access a much larger candidate pool than manual recruiting. When scouting, recruiters typically limit themselves to around a fifth of the candidate pool, finding the rest too overwhelming to fully process. In comparison, AI technology can process a full pool of potential candidates, making it possible for technical talents not from elite colleges or employee-referral programs to have a chance in the pipeline.
With AI now more proficient and cheaper than ever, hiring an AI-based sourcing firm is unlikely to break the bank. Rates can run from just under $500 to around $6000 a month, a small sum for the time and labor saved. It's a good investment, as well: professional services network Deloitte released its 2017 Global Human Capital Trends report and found that firms who utilized AI sourcing were reporting profit increases of up to 30%.
A 2019 Deloitte poll also found that 58% of CPOs in their Global CPO Survey were dissatisfied with their current sourcing strategies. With traditional recruiting options lacking, many companies, now more than ever, are switching to staffing companies that utilize AI for the solution. A recent survey released by CEIPAL, an enterprise staffing firm, discovered two-thirds of respondents had already or were considering to utilize an AI-based applicant tracking system (ATS).
With the advent of the new decade, it's time to take a new look at how AI technology can help your company source stronger technical talent. Don't let your company fall behind and miss out on capable candidates due to limited resources. The technology is there — now it's time to capitalize on it.